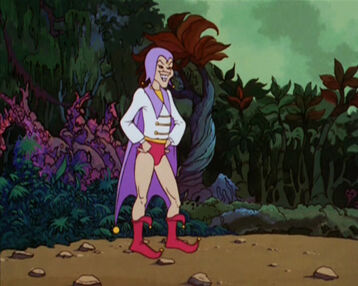 Acrobad is a minor character from the 1986 animated series She-Ra: Princess of Power. Acrobad was voiced by George DiCenzo.
Acrobad is a sinister, mischievous and hyperactive villain and accomplice to Doctor Drome's evil schemes, who appears in the She-Ra: Princess of Power episode "The Wizard." As the name suggests, Acrobad is an acrobat, kitted out in harlequin-like attire. He is superbly agile and can jump great distances to attack his enemies. To mask his ability, Acrobad stammers his way through his sentences, in an almost sing-song like manor. Doctor Drome seems to act as Acrobad's master and is certainly the brains of felonious plots. Acrobad is used simply for his athletic ability and travels with Doctor Drome in his gypsy-style wagon.
Community content is available under
CC-BY-SA
unless otherwise noted.