"Adam" may be referring to two or more different characters. If you're uncertain which one you're looking for.
If you came here from a link, please go back and make the right link for one of the characters listed below.
---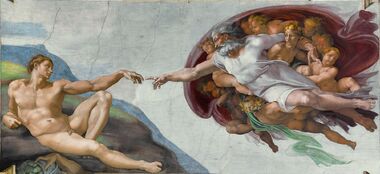 Adam
is the name of various characters in superhero fiction.
Adam, the biblical character from the Judeo-Christian religion, is said to have existed in some capacity in theDC Universe and sired Cain and Abel, who figures who became paranormal story-tellers.
Adam is also the name of a member of the Green Lantern Corps capable of self-ressurection.
Adam is also the name of an evil clone of the superhero the Guardian.
Adam the Ape is the name of an ally of the superhero Tom Strong.
Adam as given name, surname or as part of pseudonym
[
edit
|
edit source
]
The following are characters who have Adam as part of their name.
Adam Strange is a superhero in the DC Universe, an Earthling transferred to a distant planet to become its champion.
For a time, the legendary wizard Merlin took on the name Adam One.
Adam Blake is the birthname of the superhero Captain Comet.
Teth-Adam or Black Adam, an enemy of Captain Marvel.
In the DC Multiverse, Adam Thompson is the superhero known as the Atom.
In the mini-series JLA: Created Equal, Adam Kent is the son of Superman and Lois Lane.
Community content is available under
CC-BY-SA
unless otherwise noted.