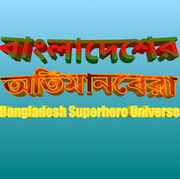 Bangladesh Superhero Universe is written and scripted by Bangladeshi Writer Muhammed Ragib Nizam. It was started from 2013 and running till reported as 2019. this series or a mega series contains 6 season until 2019 and have 70+ characters including 7 series instead.
History
[
]
Set back to 2013 Ragib Started Agent Rishad's First Series "Bloodshot Deadspot" with 20 issues published online. it continues to 7 major role series with the naming "Bangladesher Otimanobera or Superheroes of Bangladesh". The Series from 2013 was Agent Ronin, A Teen Spy Joins the Country's Military Spy Academy. after having reactions from facebook and some DIgital Prints Through Blogs and PDF, It Resulted a Resolution set in every year. in 2014, Paharmanob, Agents of D Published in Newspaper. in 2014-15, The two whole years have watched a large number of superheroes and team affiliation. Most interactive roles have come out these years with Mishu- Rater Prohori, Copy master, Jaima, Runner etc.
from 2016, Ragib started renovate the whole big map. containing 5 series- Gopon Songho, Ten Thunders, Agents of D, Macap has unitedly come out with a mega team named "Durdhorsho Songho or Darings United". the series only comes with it's flagship annual Novel series named as "killing December". This series has Three Sequel along with running a 2019 anuual which were delayed from 2018's Resolution.
From 2018, Ragib Announced infinte Earth to Comes in Next Years Resolution.
Fictional Universal History
[
]
BDSU Chronologically developed and started building a solid block stories. It rationally shows up in six season and going up with scheduled multiversal target.
Earths
[
]
Ragib's Base Earth or Primary Earth is continuing from 2013. But after 5 years milestone, it potentially open up gates to infinite earth or indicating to Multiverse as Ragib said. Ten Thunders from earth two got a series published in 2018 and earth three mega series is dated confirmed in 2019.
Series
[
]
There are total 7 series in BDSU.
| Name | Count(story/Novel) |
| --- | --- |
| Red Battelion | 2 |
| Prohori Corp | 2 |
| Gopon shongho | 10 |
| Agents of D | 13 |
| Torun Shongho | 1 |
| Ten Thunders | 2 |
| Villains of Bangladesh | 12 |
Characters
[
]
References
[
]