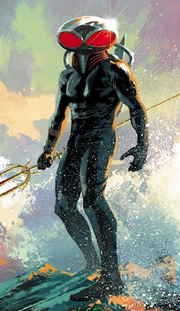 A notorious pirate and assassin, Black Manta is one of the most ruthless and feared super villains on Earth, and Aquaman's mortal enemy.
This character is used in several cartoons in which Aquaman appears: Super Friends, Justice League Unlimited, Batman The Brave and the Bold, the series Smallville, and the Aquaman film. In the case of Justice League the character had a different name (ironically it did not appear in an episode in which Aquaman appears) and another character this time with the correct name appeared in the comic books based on the cartoon.
Community content is available under
CC-BY-SA
unless otherwise noted.