"Black Panther (Disambiguation)" may be referring to two or more different characters. If you're uncertain which one you're looking for.
If you came here from a link, please go back and make the right link for one of the characters listed below.
---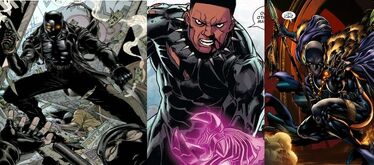 This is a disambiguation page for characters in superhero fiction named Black Panther (all of whom are currently connected to Marvel).
 Black Panther (T'Challa) is a superhero in the Marvel Universe and the ruler of the nation of Wakanda.
Bashenga was the first to take on the name Black Panther millenia ago.
Azzuri was one of the previous Black Panther's and was T'Challa's grandfather.
Shuri, T'Challa's sister, took the role of Black Panther for a while.
Kasper Cole was another hero who took on the identity of the Black Panther and is currently called White Panther.
In the year 1,000,000 BC, a man known as the Black Panther was known to exist.
 

Captain America

also took on the role for the Black Panther for a brief period.