Bumblebee is a robot hero from the Transformers franchise. Bumblebee is one of Optimus Prime's most trusted lieutenants. Although he is not the strongest or most powerful of the Autobots, Bumblebee more than makes up for this with a bottomless well of luck, determination and bravery. He would gladly give his life to protect others and stop the Decepticons.
Badly damaged in battle, Bumblebee lost the ability to speak verbally, though he can still communicate over inter-Autobot frequencies (in a fashion that seems somewhat akin to instant messaging, a usable but more distant and less personal means of interaction). He can also communicate with the Autobots' human allies and his friend, Sam Witwicky, by playing audio clips from popular media on his radio.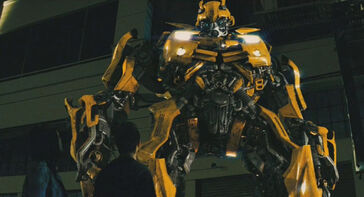 Origins
[
]
The Autobots chose to meet with Sam Witwicky because Sam's great grandpa found Megatron in the Arctic. It's rumored that his great grandpa found the all spark near Megatron and took it So to find it Bumblebee had to make contact with the nearest member of the family. The rest of the Autobots haven't reach Earth yet so they send Bumblebee first because he's the scout of their team.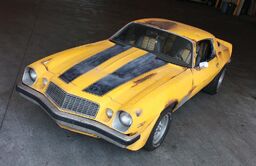 Bumblebee, having made his way to a second-rate car dealership, became Sam Witwicky's first car. Sam's father promised his son a car if Sam paid half of the money and achieved three A's in school. After doing so with the help of his genealogy project, Sam rode with his father to a car lot with an exceedingly long name. Following them to the lot, Bumblebee quietly placed himself among the other cars. To prevent Sam from having to choose another car, he used a high-frequency sound wave to blow out the windows of every other car in the lot, leaving Bobby Bolivia with no choice but to sell Bumblebee to the Witwickys.
The next day, Sam and his friend Miles Lancaster drove Bumblebee down to the lake in a misguided attempt to impress the popular girls at a party. Observing the exchange of thinly veiled insults between Sam and the football jocks, Bumblebee decided to help out Sam when the boy noticed Mikaela Banes walking home after a falling-out with her now ex-boyfriend. Playing "Drive" on his radio, Bumblebee inspired Sam to kick Miles out and drive Mikaela home. As the two awkwardly chatted, Bumblebee suddenly turned off his engine when they neared a romantic spot overlooking the city, this time playing "Sexual Healing" and "I Feel Good". Not knowing his car has a mind of its own, Sam misinterpreted this as a breakdown. Mikaela attempted to fix Bumblebee with her mechanical know-how, only to leave after Sam asked her why she tolerated jerks like her ex-boyfriend. Trying to help as much as he could, Bumblebee allowed Sam to start up his engine as she walked away, this time playing "Baby, Come Back". Arriving at Mikaela's house, Sam advanced a step towards her by stating that he didn't believe her to be shallow at all, that there was "more than meets the eye" with her. After she left, Sam quietly enthused that he loved his car.
Later that night, Bumblebee drove off by himself with Sam in hot pursuit, believing it to be a car theft. Unwittingly leading his human owner to a junkyard, Bumblebee transformed and activated his communications beacon, requesting assistance from Optimus Prime and the other Autobots. Unknown to him, Sam had seen his robot form and run off, and was now being being pursued by the junkyard's two guard dogs. Bumblebee came to Sam's aid, scaring off the dogs, but had to escape when the police (whom Sam had previously summoned when Bumblebee drove away from his house) arrived to arrest Sam for breaking into the junkyard.
The next day, Bumblebee drove back to the Witwicky house sometime after Sam had been bailed out by his dad. Frightened and confused, Sam rode away from what he dubbed "Satan's Camaro", ending up in the city and encountering Mikaela in front of a Burger King. Bumblebee followed Sam towards an industrial area, not realizing that the Decepticon Barricade was stalking the boy. Sam ran away from the attacking Decepticon and literally ran into Mikaela after she had followed him. As Barricade bore down on the pair, Bumblebee suddenly appeared, knocking the Decepticon off his feet, then drove the humans away as Barricade gave chase.
Racing through dilapidated factories and warehouses, Bumblebee eventually arrived at a deserted chemical plant on the outskirts of town. There he waited until Barricade's back was turned before dumping Sam and Mikaela out of his passenger side door, then transforming into robot mode to protect his friends. Barricade transformed and attacked, hitting Bumblebee with his tire spikes and knocking the Autobot into a chemical tank. In retaliation, Bumblebee grabbed Barricade and threw him into an electrical substation, but Barricade rolled over and grabbed Bumblebee's head and began to pound him. Eventually, Bee was able to damage the Decepticon enough to put him into stasis lock. After Sam and Mikaela took care of Frenzy, Bumblebee introduced himself to them entirely through the use of his radio, explaining that it was the only way he could communicate, that he was an alien, and that Sam had witnessed him calling to his friends the previous night. Transforming back into vehicle mode, Bumblebee invited his friends to enter (which they did after a brief hesitation) and began to drive them to nearby Griffith Observatory.
On the way, Mikaela (who had refused to sit in the driver's seat, as Bumblebee was driving), rhetorically asked Sam that if Bumblebee was a super-advanced robot, why did he turn into a piece-of-crap Camaro? Mildly insulted, Bumblebee stopped in the middle of a packed tunnel and forced the humans out, then drove away. As Sam lamented the fact that "four thousand dollars just drove off", Bumblebee passed another car and scanned it, driving back to the pair as a sleek and shiny 2009 Camaro. Amazed and impressed, Sam and Mikaela got back in, and Bumblebee continued their journey to the observatory. Arriving, the humans observed as the other Autobots entered the Earth's atmosphere and crash-landed in various parts of the city.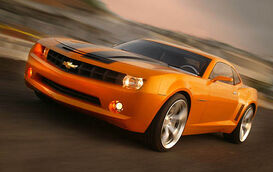 Bumblebee then took his friends to a secluded alleyway, where Sam and Mikaela met the other Autobots. Introducing themselves, Sam learned that Bumblebee was his guardian and that the Autobot's vocal processors had been damaged in battle. Ratchet was still working on them as he fired a regenerative plasma beam[1] at the damaged area. Optimus Prime explained that their mission was to find the AllSpark, and that Sam Witwicky was the key due to his grandfather discovering Megatron on an Arctic voyage.
Arriving at the Witwicky residence, Bumblebee attempted to convince his comrades to remain out of sight while Sam was talking to his father. When Sam and Mikaela were captured by Sector Seven, Bumblebee helped rescue them. The interrogation of Agent Simmons went nowhere, however, and Bumblebee became so annoyed with his attitude that he released lubricant onto the agent. Soon, Sector Seven reinforcements arrived, intent on recapturing the kids and any "N.B.E.s" they could get their hands on. Optimus Prime tried to protect Sam and Mikaela as they hid under a bridge, but both almost fell to their deaths when they slipped. Bumblebee raced forward, transforming and catching them in mid-air. Unfortunately, this also gave Sector Seven a clear and obvious target for them to attack. Firing harpoon cables from helicopters, the clandestine human organization dragged Bumblebee to the ground, and its soldiers began to freeze the helpless Autobot, who reached out to Sam. The boy broke free from an agent's grip, pushing the soldiers aside until he was tackled by several agents and taken away. Though Jazz objected to allowing Sector Seven to leave with their friend, Optimus Prime ordered his troops to stand down, as there was no way to save the prisoners without incurring human casualties.
Taken to Hoover Dam, Bumblebee was continually doused with cryoblasts to keep him docile and inert as Sector Seven performed experiments on him. Sam and Mikaela (with some armed persuasion from Captain Lennox) convinced Sector Seven to release Bumblebee. Upon his release, Bumblebee converted to battle mode and almost lashed out at his human oppressors until Sam calmed him down, informing him of the presence of the AllSpark and Megatron in the facility, and that the Decepticons were coming for both. Following the humans to the AllSpark's chamber, Bumblebee hesitantly reached out to the life source of his people and reformatted it, shrinking the cube until it was a size that the humans could manipulate. Bumblebee and a military escort fled to Mission City, meeting the Autobots en route.
Soon after they arrived at the city, Starscream appeared. Recognizing the Decepticon, Ironhide and Bumblebee lifted up an abandoned truck in order to shield the humans from any collateral damage Starscream's attack would inevitably bring. One of the Decepticon's missiles struck the truck, sending both Autobots flying, with Bumblebee landing in a store front. The attack tore off Bumblebee's legs and left him barely functional, as Sam discovered to his horror when Bumblebee crawled from the wreckage. Soon, the other Decepticons arrived, led by Megatron, and the remaining Autobots were engaged. Mikaela and Sam hoisted Bumblebee onto an abandoned tow truck, but refused to leave his side. The Autobot silently handed his friend the AllSpark, trusting the fate of his people into the boy's hands, and urged him to run while he still could. As Sam ran off, Mikaela drove Bumblebee away from the fighting to relative safety.
TV shows and Movies
[
]
Bunch of TV cartoon shows don't recommend them really lame and comes out in all the Transformers movies.
Powers and Equipment and Abilities
[
]
Abilities: Bumblebee is an excellent scout, due to his speed and small size, but still a good warrior.
Equipment: He is armed with two Energon blasters in his arms, he is also armed with an energy shield along with a plasma gun and rockets on his wrists
Power: can transform into a Camaro muscle car, and scan other versions of them and transform into that version.