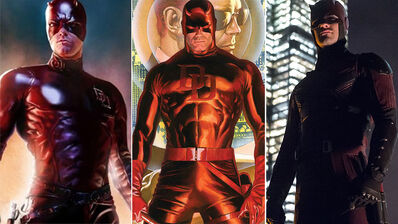 The Marvel Comics superhero Daredevil has appeared in a number of different media.  The character originally appeared in his own comic book series and in the Marvel Universe as a whole before making appearances in a variety of other media.
Books
[
]
Daredevil appears as the central character in a short story in the anthology The Marvel Superheroes, released in 1979.
Dardevil: Predator's Smile, a novel written by Christopher Golden and released in 1996, features Daredevil hunting an arsonist only to find a conspiracy to usurp his old enemy, The Kingpin of Crime.
Daredevil: The Cutting Edge, a novel written by Madelaine E. Roberts released in 1999, features Daredevil battling "The Cutter", a serial killer who went under a procedure that makes him undetectable to Daredevil's heightened senses.
Film
[
]
- Daredevil is the protagonist of the Daredevil film, released in 2003.  Since he was a boy, he was raised by his father, a boxer, who worked hard to support his son and teach him good values.
TV Show
[
]
Spider-Man and his friends
Spider-Man cartoon
Daredevil Tv Series