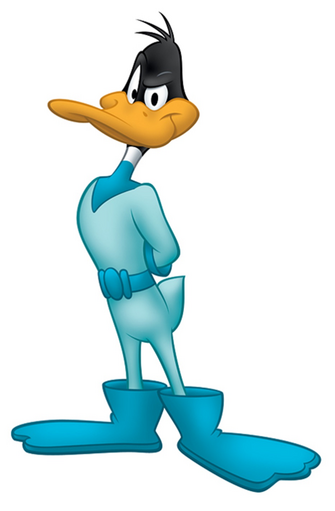 Duck Dodgers is a fictional, parodic star of Buck Rogers, from the animated series produced by Warner Bros. This is Pato Lucas himself in the role of space hero.
Duck Lucas is frozen in the present and then thawed in the future, in which he becomes a captain who has very little hero. He is almost always saved by his assistant, a space cadet who is none other than Porky, although everything changes when Dodgers manages to save Earth from a Mars attack. The usual antagonist is Marvin the Martian.
Appearances
Duck Dodgers first appeared in July 1953 in the Looney Tunes short film "Duck Dodgers in the 24½th Century", written by screenwriter Michael Maltese and director Chuck Jones.
In the old short films of Looney Tunes he appeared as a parodic character of Buck Rogers and Flash Gordon, with a simple and green uniform, fulfilling few missions and adventures and having as a counterpoint to Porky as a serious and balancing character of the egocentric duck, as was customary in the character's short films directed by Chuck Jones. Appears in an episode dressed in Green Lantern (Hal Jordan).
In 2003, Warner Bros. incorporated this alter ego of Pato Lucas in the feature film Looney Tunes: Back in Action, prior to the release of the series "Duck Dodgers", with the same original plot but retouched and reinforced by other famous characters from Looney Tunes.
Other appearances
The character has appeared in reach media; among them, in the combat simulator M.U.G.E.N. as well as in other more official video games.
Duck Dodgers appeared in the video game Duck Dodgers 2: Marvin's Revenge (Looney Tunes: Marvin Strikes Back!) And in Red Martian.
In the short film The Cockerel Rooster (Cock of the Walk), there is a time when Claudio Rooster is dressed as Duck Dodgers.
Other characters
Other known characters and other universes have appeared as: