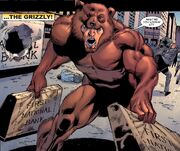 Grizzly
is the name of four characters in the
Marvel Universe
(who have no connection to each other beyond the name).
Ace Fenton
Edit
Grizzly

Real Name

Ace Fenton

First Appearance

Rawhide Kid #40 (June, 1964)

Creators

Stan Lee, Dick Ayers

Team Affliations

None

Aliases

Ace Festor

Base of Operations

Tombstone, Arizona

Powers

None

Skills and Abilities

Mechanical Engineering

Tools and Weapons

Grizzly Suit, Rifle
Ace Fenton was a criminal in the old West who tried to frame the Two-Gun Kid for a crime he did not commit.
Ace Fenton was a bank robber who decided to wear a bulletproof bear costume in order to draw suspicion away from himself.
Biography
Edit
Not much has been revealed about Ace Fenton's life prior to facing off against the Two-Gun Kid and the Rawhide Kid.  After developing a bulletproof suit that allows the wearer to be disguised as a bear, he went on a crime spree in Tombstone, Arizona, robbing several banks.  Eventually he ran afoul the crimefighters the Two-Gun Kid and the Rawhide Kid when he attempted to rob the Pony Express but was able to escape thanks to his powerful armor.
Afterwards, the Rawhide Kid was wrongfully accused of the crime and was convinced to turn himself in to prove his innocence by the Two-Gun Kid (who also defended him in court as his alter ego Matt Hawk).  The case against Rawhide was that the bear was his trained accomplice and Fenton tried to break him out of prison as the Grizzly to make the story more believeable, only to be defeated by him and Two-Gun and was chased off.  Two-Gun and Rawhide tracked down Fenton, tricked him into confessing his crime and took him to justice.
Personality
Edit
A duplicitous man, Ace Fenton pretended to be a law-abiding citizen, he secretly was a criminal until he was caught and arrested.
Skills and Abilities
Edit
Ace has at least some mechanical and designing expertise to create a believable bear costume that also acts as a suit of heavy, bulletproof armor.
Paraphenalia
Edit
Bear Suit - Grizzly uses a bear suit of his own design to commit crimes.
A.I.M. Operative
Edit
Grizzly

Real Name

Unknown

First Appearance

Captain America (Vol. 1) #120 (December, 1969)

Creators

Stan Lee, Gene Colan

Team Affliations

AIM

Aliases

None

Base of Operations

Unknown

Powers

None

Skills and Abilities

Espionage

Paraphenalia

Laser Pistol
The second Grizzly (and the first of the modern era) was an operative of A.I.M. who did battle with Captain America at the behest of the villain M.O.D.O.K.
Grizzly's origins remain unknown.
Biography
Edit
Grizzly's real name and past remain unknown.  At some point he joined A.I.M. (Advanced Idea Mechanics), a technology focused terrorist organization (which suggests he may have some level of technological expertise).  He eventually became a henchman for the bizarre cyborg M.O.D.O.K., who was secretly sparking student protests as part of his plans.  In fact, M.O.D.O.K. was merely using this as a diversion so that they could get to the brilliant scientist Professor Paul Fosgrave, who had atomic equations that he coveted.
To this end, Grizzly and another A.I.M. agent infiltrated the campus disguised as students.  However, their plot was eventually foiled by the superhero Captain America.  Grizzly has not been seen since.
Skills and Abilities
Edit
Being an A.I.M. agent working directly under M.O.D.O.K., Grizzly is likely an experienced and talented espionage agent.
Paraphernalia
Edit
Grizzly is show weilding a laser pistol of some kind.
Community content is available under
CC-BY-SA
unless otherwise noted.