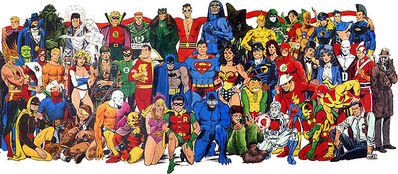 The following is a list of individual characters from the DC Universe or its Multiverse.
Aqualad ( Garth )
Atom Smasher
Aqualad ( Kaldur'ahm )
Arsenal
Ava Sharpe
Axel Walker
Atom
Amazo
Adam Strange
Amazing-Man
Amethyst Princess of Gemworld
Abel
Abin Sur
Abby Holland
Alfred Pennyworth
Antiope
Artemis Of Bana-Mighdall
Abra Kadabra
Amanda Waller
Anarky ( Lonnie Machin )
Anti-Monitor
Atomic Skull
Azrael
Black racer
Banshee
B'dg
Batwoman
Brother Warth
Blackfire
Bronze Tiger
Black Siren
Brainiac 5
Black Flash
Black vulcan
Baby face
Bleez
Bookwarm
Batwing
Black Condor
Black Orchid
Blackhawk
Brainwave jr
Brainwave
Blackguard
Bloodsport
Blockbuster
Captain Atom
Catherine Hamilton-Kane
Cheshire
Cicada
Circe
Commissioner Gordon
Cicille Horton
Clifford DeVoe
Clock King
Cosmico
Copperhead
Crazy Quilt
Colonel Hardy
Condiment King
Catman
The Comedian
Colossal Boy
Commander Steel
Congorilla
Creeper
Cyclone
Count Vertigo
Constantine
Darkseid
Darla Dudley
Deadman
Devastator
Deathstorm
Detective Chimp
Dr. Manhattan
Dr. Martin Stein
Dr. Poison
Donna Troy
Dreamer
Dex-starr
Dr. Phosphorus
Dr. Mid-Nite
Dream
Death
Doctor Occult
Doll Man
Duela Dent
DeSaad
Despero
Doctor Alchemy
Doctor Cyber
Doctor Destiny
Dollmaker
Eddie Thawne
Eclipso
Eraser
Egghead
El Diablo
Eradicator
Emerald Empress
Flash (Barry Allen)
Freddy Freeman
The Flash (Jay Garrick)
False face
Ferro Lad
Firebrand
Flamebird
Flex Mentallo
Fury
Faora
Felix Faust
Fiddler
Floronic Man
Green Lantern (Guy Gardner)
Green Lantern ( John Stewart)
Green Lantern ( Alan Scott)
Green Lantern ( Kyle Rayner)
Green Lantern ( Jessica Cruz)
Golden Glider
Green Guardsmen
Gideon
Great White Shark
Gentleman Ghost
Grifter
Guardian
Gambler
Glorious Godfrey
Hercules
Hawk & Dove
Haggor
Hugo Strange
The Hood
Hourman
Hector Hammond
Hawk Woman
Impulse
Indigo
Iris West-Allen
Icicle
Ibis The Invinvible
Icon
Immortal Man
Isis
Jacob Kane
Johnny Quick
Jaguar
Jefferson "Jax" Jackson
Jericho
Jesse Quick
Joe West
John Constantine
John Stewart
Jonah Hex
Kalibak
Krypto
Kite man
King Tut
King Shark
Killer Moth
Kabuki twins (The Batman)
Klarion the Witch Boy
Lady Shiva
Lana Lang
Lena Luthor
Louie the lilac (Batman TV Series)
Lagoon boy
Lobo Cinzento
Lucius Fox
Luke Fox
Lucifer
Lois Lane
Merciless
Mar Novu / Monitor
Mazahs
Mister Miracle
Metron
Mr. Terrific
Mr. Camera
Minstrel (Batman TV Series)
March Harriet
Magpie
Mime
Maxie zeus
Mona Wu
Mobius / Anti-Monitor
'Mazing Man
Morgaine le Fey
Negative Flash
Nightrunner
Nite Owl
Nebula man
Needle
Nekron
Neron
Nora Darhk (Arrowverse)
Nocturna
Ozymandias
Omega man
Owlman
Professor pyg
Penumbra
Polka dot man
Prometheus
Peacemaker
Relampago
Roland Daggett
Red Arrow
Red Robin
Red X
Rick Flag
Rocket Red
Roundhouse
Reverse Flash (Eobard Thawne)
Ratchet
Ratcatcher
Ragman
Red Robin
Rorschach (Walter Kovacs)
Streaky the Supercat
Savitar
Saturnia
Solar Boy
Sophie Moore
Sandman (Wesley Dodds)
Superboy
Supergirl & Streaky
Signal
Silkie (Teen Titans cartoon)
Star Man
Star Sapphire (see Carol above)
Silk Spectre
Sherlock Holmes
Simon Baz
Skallox (Red Lantern)
Samurai
Sweet Tooth (The new adventures of Batman)
Siren
Simon the Pieman (The adventures of Batman)
Steppenwolf
Triple Girl
Timber
Talia al ghul
Terra
Thunder
Tom Turbine
Tarantula
Talon
The Heretic
Tetch
Ultraa
Ultraman
Unknown Solider
Vandal Savage
Vibe
Valerie perez
Vanquisher
Veon (Red Lantern)
V for Vendetta
Wally West
White Lantern
Wild Dog
X-Bomb Betty
Xanna Xanthi
Xebel
Xeo Xax
Xero
Xotar
Xombi
Xyltph Xov
Community content is available under
CC-BY-SA
unless otherwise noted.