Spider-Man

Real name

Peter Parker

First Appearance

Amazing Fantasy (vol. 1) #15 (August, 1962)

Creators

Stan Lee, Steve Ditko

Team Affliations

Avengers, Future Foundation, Heroes for Hire, New Fantastic Four

Aliases

Web-Head, Your Friendly Neighborhood Spider-Man, Prodigy, Dusk, Ricochet, Hornet, Scarlet Spider

Base of Operations

New York City, New York

Powers

Superhuman strength, speed, agility, stamina, senses, reflexes, and durability, Ability to cling to most surfaces, Regenerative healing factor, Able to shoot very strong spider-web strings from wrists via web-shooters, Spider-Sense

Skills and Abilities

Master hand-to-hand combatant, Genius-level intellect

Tools and Weapons

Web Shooters, Spider Trackers, Belt to hold web cartridges and has a red spot light
Spider-Man (Peter Parker) is an iconic superhero who exists in the Marvel Universe.
Origin
When meek Peter Parker was bitten during a radioactive spider during a science demonstration, he found he had gained super-human abilities. Peter first began to use his powers to gain fame and fortune as Spider-Man, but after his beloved uncle was killed by a criminal he could have caught earlier in the day, Peter realized his great power came with great responsibility to help others. From that day Spider-Man eschewed fame and fortune in favor of using his powers to help others and fight evil.
Biography
From Man to Spider-Man
Born to Richard and Mary Parker in Queens, New York, Peter Parker lost his parents at a very young age when their plane went down overseas while they were on a mission as government spies. He was raised by his aunt and uncle (May and Ben Parker) who, along with his teachers at Midtown High School, thought he had a bright future due to his affinity for science. However, Peter struggled with bullies and being teased for his introverted nature (sometimes referring to him as a "professional wallflower") and interest in science that pegged him as a teacher's pet.
One day, Peter was at a science exhibit witnessing a scientist attempting to harness the power of radioactivity. Suddenly, a tiny spider fell, unseen by all, into the beam of radiation. Soon, that spider bit Peter on his hand. Dazed and woozy, Peter fled the room and accidentally ran into the path of an incoming car. Warned by a tingle in the back of his head, he quickly dodged the car. Somehow, he stuck to the wall he landed on. Crawling up the wall he grabbed and accidentally crushed a steel pipe. Then he started walking on a power line, with ease. Realizing the spider somehow its power to him, he began to wonder what to do with his new abilities. Soon after, Peter was walking down the street when he noticed a poster of a wrestling challenge. Thinking that this was another way to test his powers, he eagerly, ran home. After easily defeating his opponent, Crusher Hogan, a television promoter offered Peter (Peter was wearing a makeshift costume to protect his identity) a TV show.
Taking the promotion, Peter ran home to create a better costume. He also decided to use his scientific know-how to create some "web-shooters" to make him more spider-like. Adopting the name "Spider-Man" he scurried to the TV set.
Later, after amazing the crowd, Pete finally felt adoration by people who weren't his aunt and uncle. Suddenly, he noticed an elderly security guard chasing someone. Thinking that it wasn't his problem, Peter let the fugitive go, unaware of the consequences of his actions.
A few days after amazing crowds numerous times, Peter was walking home when he saw a police car in front of his house. Wondering what was going on he asked the policeman what happened. He was shocked when he was told that his Uncle Ben was murdered by a burglar attempting to steal from the Parkers. Ben was shot after attempting to stop him, dying almost instantly. Furious, Peter donned his costume and set out for vengeance. Tracking the murderer to an abandoned warehouse, Spidey confronted the criminal, knocking out the man with one punch. When he looked at the fugitive's face he realized this burglar was the guy the security guard was chasing at the TV set! With his uncle paying the ultimate price for his inaction and indifference, he found out with great power comes great responsibility. From then on, Peter decided to use his newfound powers, not for personal gain, but to fight crime and protect the innocent.
Making Ends Meet
Following the death of Ben Parker, Peter, and May faced a great deal of financial difficulties. With Aunt May being rather weak, Peter decided to become the breadwinner of the household, despite Aunt May asking that Peter instead focus on his studies. Peter considered using his Spider-Man identity for crime but decided against it, both for moral reasons, but also because he knew it would hurt Aunt May if he went to prison.
Peter found that getting work on TV again was impossible, as his agent left him following a smear campaign by J. Jonah Jameson, the publisher of the Daily Bugle newspaper and NOW Magazine. Jameson painted Spider-Man as a vigilante who acts above the law and a terrible influence on society.  Though this angle turned the public against Spider-Man, public opinion swang back the other way after Spider saved J. Jonah Jameson's son, astronaut John Jameson, from a rocket disaster.
Supporting characters
Spider-Man has had a large range of supporting characters introduced in the comics that are essential in the issues and storylines that star him. After his parents died, Peter Parker was raised by his loving aunt, May Parker, and his uncle and father figure, Ben Parker. After Uncle Ben is murdered by a burglar, Aunt May is virtually Peter's only family, and she and Peter are very close.
J. Jonah Jameson is depicted as the publisher of the Daily Bugle and is Peter Parker's boss and as a harsh critic of Spider-Man, always saying negative things about the superhero in the newspaper. Despite his role as Jameson's publishing editor and confidant Robbie Robertson is always depicted as a supporter of both Peter Parker and Spider-Man.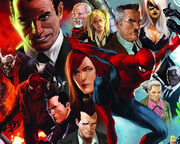 Eugene "Flash" Thompson is commonly depicted as Parker's high school tormentor and bully, but in later comic issues he becomes a friend to Peter. Meanwhile Harry Osborn, son of Norman Osborn, is most commonly recognized as Peter's best friend but has also been depicted sometimes as his rival in the comics.
Peter Parker's romantic interests range between his first crush, the fellow high-school student Liz Allan, to having his first date with Betty Brant, the secretary to the Daily Bugle newspaper publisher J. Jonah Jameson.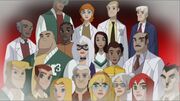 After his breakup with Betty Brant, Parker eventually falls in love with his college girlfriend Gwen Stacy, daughter of New York City Police Department detective captain George Stacy, both of whom are later killed by supervillain enemies of Spider-Man. Mary Jane Watson eventually became Peter's best friend and then his wife. Felicia Hardy, the Black Cat is a reformed cat burglar who had been Spider-Man's girlfriend and partner at one point.
Powers, skills, and equipment
A bite from a radioactive spider on a school field trip causes a variety of changes in the body of Peter Parker and gives him superpowers. In the original Lee-Ditko stories, Spider-Man has the ability to cling to walls, superhuman strength, a sixth sense ("spider-sense") that alerts him of danger, perfect balance and equilibrium, as well as superhuman speed and agility. Some of his comic series have him shooting webs from his wrists. Academically brilliant, Parker has expertise in the fields of applied, chemistry, physics, biology, engineering, mathematics, and mechanics. The character was originally conceived by Stan Lee and Steve Ditko as intellectually gifted, but not a genius; however, later writers have depicted the character as a genius. With his talents, he sews his own costume to conceal his identity, and constructs many devices that complement his powers, most notably mechanical web-shooters. This mechanism ejects an advanced adhesive, releasing web-fluid in a variety of configurations, including a single rope-like strand to swing from, a net to bind enemies, and a simple glob to foul machinery or blind an opponent. He can also weave the web material into simple forms like a shield, a spherical protection or hemispherical barrier, a club, or a hang-glider wing. Other equipment includse spider-tracers (spider-shaped adhesive homing beacons keyed to his own spider-sense), a light beacon which can either be used as a flashlight or project a "Spider-Signal" design, and a specially modified camera that can take pictures automatically.
Community content is available under
CC-BY-SA
unless otherwise noted.