Super Grover

Real Name

Grover [sometimes Grover Kent]

First Appearance

Sesame Street, "Episode 0682"

Creators

Jim Henson

Team Affliations

None

Aliases

None

Base of Operations

Sesame Street

Powers

Flight

Skills and Abilities

Beginner knowledge of STEM disciplines

Tools and Weapons

None
Super Grover is the superhero identity of Grover in the education children's TV program Sesame Street.
Super Grover is voiced by Frank Oz and was performed by Frank Oz before being replaced by Eric Jacobson.
Super Grover gained his powers the first time he wore a Halloween costume his mommy had made.
According to the sketch "The Origin of Super Grover", Grover gained his powers when he first donned the costume his mother had made for him for Halloween.  He is shown both having the identity as Grover Kent as well as regular Grover in differing sketches.  He is often seen changing his costume in a phone booth, much like Superman, though he has been sen changing into his costume really fast by spinning like Wonder Woman did in her TV series from 1975.  Super Grover usually arrives to help people who are in need, but sometimes accidentally causes more trouble (for himself and others) than he fixes.  Super Grover has also acted as mentors for other superheroes and would-be superheroes including Elmo and Horatio and even opened up a school for superheroes on Sesame Street.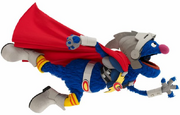 Later, Grover took on a second superhero identity of Super Grover 2.0.  This identity was focused on the STEM (Science, Technology, Engineering and Math) cirriculum and showed him travelling the world to ask investigative questions, observing facts and looking at solutions to problems.  He also demonstrates various simple devices and inventions that improve everyday life, such as springs and wheels.
Both as Grover and his superheroic alter ego, he is known for being sweet, clumsy and well-intentioned. As Grover 2.0, his clumsiness seems to be less of an issue and he is shown to be inquisitive and interested in learning.
Flight - Super Grover is shown being capable of flight, though he is shown to be terrible at landings.
Super Grover is often very inept and physically clumsy, but he does have his skills and strong points.  As Super Grover 2.0, he is shown having some basic knowledge of the STEM (Science, Technology, Engineering and Mathematics) disciplines and teaches viewers about them.
Community content is available under
CC-BY-SA
unless otherwise noted.