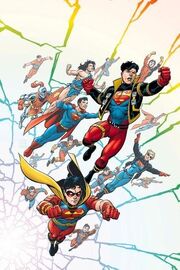 This is a disambiguation page for all characters with the name Superboy in the DC Universe:
Clark Kent was the original Superboy and it was his original identity in the Silver Age before he became Superman.
The Superboy of Earth Prime is a superhero who eventually becomes a supervillain.
Conner Kent was the most recent Superboy, who was a clone of Superman.
Superboy One Million, the millionth clone of Connor Kent of the alternate future known as DC One Million, in the 853rd Century.
Community content is available under
CC-BY-SA
unless otherwise noted.