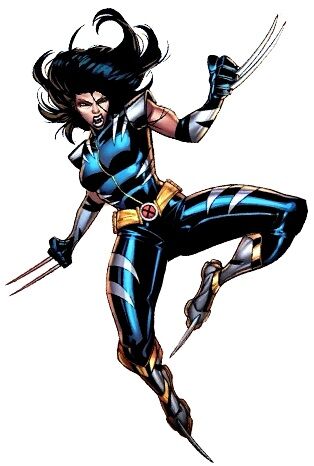 X-23
 (formerly 
Wolverine
) is a superheroine who first appeared in the animated TV series
X-Men: Evolution
before being introduced into the
Marvel Universe
. The origin of the character is the same as the cartoon: the character is a clone of Wolverine (but as in real life, a clone that started as a baby and does not have the memories of the original), and had a horrible growth because it should be the living weapon that Wolverine was not, and of course she started out as an enemy, but then she started to turn her anger back to her culprits for not having a childhood and growth like other kids like other kids and she joined to the x-men and was adopted by Wolverine since in a way it is his daughter. Eventually she became a continuation of his superhero name "Wolverine". She has all the powers of WOlverine, but instead of three claws in her hands she has two in her hands and one in her foot, in the comics the metal Adamantium is only in her claws.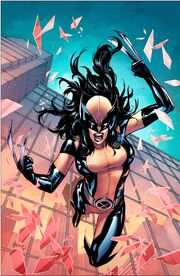 Community content is available under
CC-BY-SA
unless otherwise noted.