Zatanna

Real Name

Zatanna Zatara

First Appearance

Hawkman (Vol. 1) #4 (October–November, 1964)

Creators

Julius Schwartz, Gardner Fox, Murphy Anderson

Team Affiliations

Justice League, Justice League Dark, Sentinels of Magic, Seven Soldiers

Aliases

None

Base of Operations

Shadowcrest, San Francisco

Powers

Magic

Skills and Abilities

Magic knowledge, fighting experience

Paraphernalia

None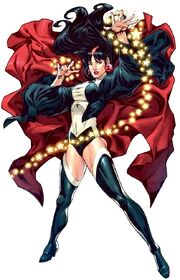 Zatanna is a superheroine in the DC Universe and is the daughter of the Golden Age superhero Zatara.
Origin
[
]
The daughter of magician John Zatara, his daughter Zatanna learned magic for herself and became one of the most powerful magic users on Earth.
Biography
[
]
Zatanna Zatara was born the daughter of magician Giovanni "John" Zatara and Sindella, a member of the homo magi race, who are magical humans.  Shortly after Zatanna's birth, Sindella faked her death to return to her people and Zatanna was raised by John Zatara in New York. Her bloodline includes artist Leonardo DaVinci (in fact also a magician), prophet Nostradamus, Lord Arion of Atlantis and alchemists Alessandro Cagliostro, Nicholas Flamel and Evan Fulcanelli.